(S03E020) Previous Episode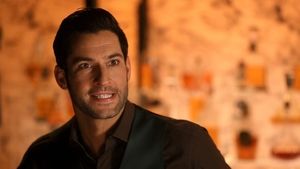 Aired On 2018-04-16
Lucifer and Chloe investigate a murder during which a witness claims a winged guardian angel saved her life, causing Lucifer to become paranoid about his own actions. Meanwhile, Pierce and Chloe's relationship takes an interesting turn and Lucifer discovers something that could change everything.
Next Episode (S03E021)
Airs On 2018-04-23
When a prima ballerina is brutally murdered, Lucifer helps Chloe solve the case and attempts to keep her focus away from Pierce. Amenadiel begs Charlotte to help him with an important plan, and Maze remains devoted to a task from which Pierce asked her to back away. Then, Chloe confronts Lucifer about his meddling in her life, but as he's about to make a huge confession, he finds out something that changes everything.
Watch Lucifer (2016) Online Free
Bored and unhappy as the Lord of Hell, Lucifer Morningstar abandoned his throne and retired to Los Angeles, where he has teamed up with LAPD detective Chloe Decker to take down criminals. But the longer he's away from the underworld, the greater the threat that the worst of humanity could escape.